2023-2024 Catalog
2023-2024 Catalog
---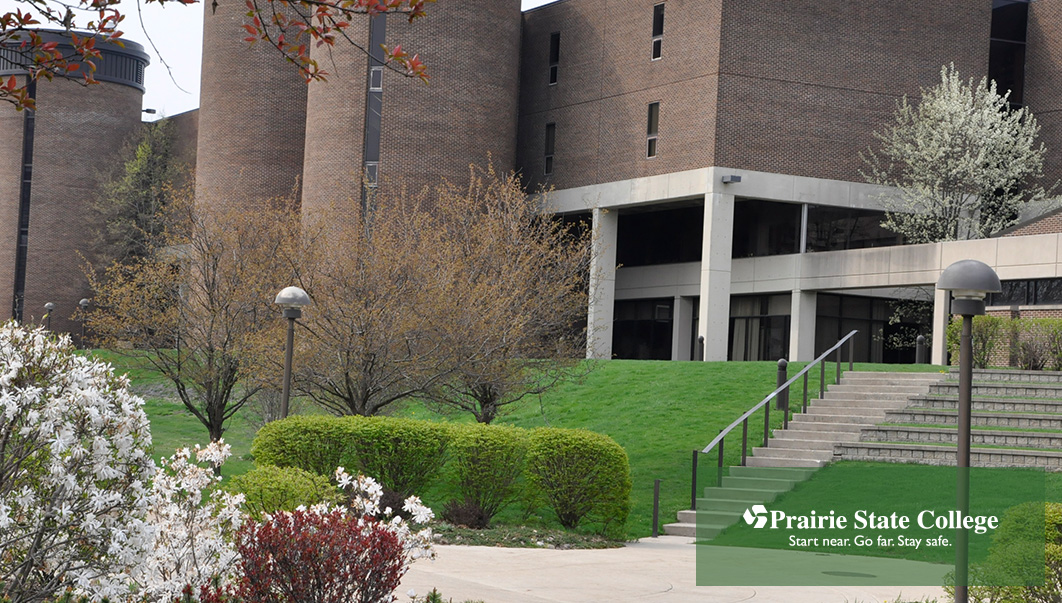 Main Campus, 202 South Halsted Street, Chicago Heights, IL 60411, (708) 709-3500
Matteson Area Center, 4821 Southwick Drive, Matteson, IL 60443, (708) 709-3750
College Profile
Prairie State College is a two-year community college offering associate degrees, technical and career certificates, and adult, corporate, and continuing education. Prairie State College is one of the 39 community college districts (comprising 48 colleges) in Illinois. Prairie State College was the first Illinois community college to guarantee all credits will transfer to other Illinois colleges and universities, an assurance that has grown through the Illinois Articulation Initiative.
Communities Served
Prairie State College, Illinois Community College District 515, consists of the following communities: Beecher, Chicago Heights, Crete, Flossmoor, Ford Heights, Glenwood, Homewood, Matteson, Monee, Olympia Fields, Park Forest, Richton Park, Sauk Village, South Chicago Heights, Steger, University Park, portions of Country Club Hills, Hazel Crest, Lynwood, Tinley Park and adjacent unincorporated areas of Cook and Will counties. To verify your address is in district, call the office of Enrollment Services at (708) 709-3514 or email enrollment@prairiestate.edu.
The high schools that feed into Prairie State College include: Beecher, Bloom, Bloom Trail, Crete-Monee, Homewood-Flossmoor, Rich Township, and Marian Catholic.
Accreditation
Prairie State College is accredited by the Higher Learning Commission (HLC). The HLC accredits degree-granting post-secondary educational institutions in the north central region.
Contact information for the HLC:
Higher Learning Commission
230 South LaSalle Street, Suite 7-500
Chicago, Illinois 60604-1411
Phone: (800) 621-7440 / (312) 263-0456
Fax: (312) 263-7462
info@hlcommission.org
www.hlcommission.org
Visit the Higher Learning Commission website for full details, including the Prairie State College Statement of Accreditation Status.
Mission Statement
Prairie State College provides access to affordable and high-quality educational opportunities that empower students to achieve their career and life-long goals.
Vision Statement
Prairie State College is the catalyst for growth and discovery that inspires our community of diverse learners and leaders to reach their full potential and make a positive impact on the world.
Values
Learning
We strive for excellence in all we do and offer high-quality programs in an environment that prioritizes student learning and success.
Equity
We strive to achieve equitable outcomes for students regardless of their identities, and promote a sense of belonging and an inclusive learning environment for all members of our diverse community.
Access
We provide unrestricted opportunities for learning suited to students' individual and collective needs and implement fair processes that recognize their dignity.
Integrity
We treat one another with respect and uphold honest and ethical principles that guide decision-making with the best interests of our students and community in mind.
Innovation
We offer forward-thinking curriculum and programming to prepare our students for the careers and challenges of the future.
Sustainability
We integrate sustainable practices into every aspect of the College – the way we teach, maintain our grounds, and operate.
Community
We develop and nurture partnerships with educational institutions, community organizations, and employers to strengthen and support our district.
Disclosure Statement
The college makes every effort to ensure the accuracy of the information and believes the information in this catalog is accurate as of publication. For the most up-to-date information on Prairie State College courses and programs, check the website at prairiestate.edu.
---